Spotlight City: So many reasons to love real estate in Concord, NH
Verani Realty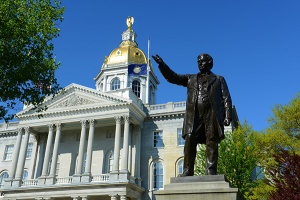 A first tip for newcomers to New Hampshire's capitol city: the locals pronounce the second "o" with a soft "o" sound, so when you're taking a tour of Concord, NH real estate, say it like "konk-kehrd" and you'll hit the ground running.
A little history
Concord came into its own throughout the 18th century, and that is reflected in some of its earliest homes still standing along the northern stretch of Main Street – the city's main downtown thoroughfare. Just down the road a few blocks stands the country's oldest still-in-use capitol building, a gold-domed 1819 State House, which still houses New Hampshire's legislature today – all 424 members (not a typo)! Incorporated in 1765 (though technically in existence since 1725 under the name of Penacook Plantation), signs of the city's rich history is evident in the neighborhoods, homes, and cultural heritage on display in The Capitol City.
A Main attraction
Known for its historic architecture, cultural hotspots, and independent shops and eateries, Concord's Main Street is one to be proud of, having been recently renovated to encourage visitors to patronize the many businesses located on or around it. The $7.85 million Main Street Project was completed just this year, adding a new dimension to Concord, NH real estate and options for homeowners.
A variety of accolades
Here are a few awards that help illustrate why you should explore Concord and the real estate in Concord, NH.
Crown Community Award from American City and County magazine – In January of 2018, Concord was chosen as one of only six communities nationwide to be recognized for undertaking new, impactful and innovative public projects (Concord's Main Street Project).
Water Fluoridation Quality Award from the NH Department of Health and Human Services, on behalf of the U.S. Centers for Disease Control & Prevention (CDC) – In December of 2017, Concord received this award, as community water fluoridation is recognized by the CDC as one of the 10 great public health achievements of the 20th century.
Fourth Best U.S. Capital City from SmartAsset – In August of 2016, Concord was recognized for positive statistics in unemployment rate, violent crime, cost of living, and access to fun and entertainment. In February of 2017, WalletHub.com ranked Concord as the Seventh-best U.S. Capital City in Which to Live.
Concord was featured third on Liveability's list of best places to live in New Hampshire.
By the numbers
Concord's population is 42,700 people and is about a 20-minute drive to New Hampshire's largest city of Manchester, 46 miles from Portsmouth; and 68 miles from Boston.
Over the last six months, market trends indicate an increase of $46 (or 41%) in the average price per square foot, and median sale price rose from $205,725 to $220,000. Concord, NH homes for sale spend about 122 days on the market on average, and buyers should expect to pay 97% of the seller's asking price.
The average age of people living in Concord, NH is 41 and the median household income is $63,217. About 66% of people living in the city are college educated, and the unemployment rate is slightly above the state average at 4%.
See for yourself!
Open space, outdoor amenities, the Merrimack River, and conservation area abound in Concord, which is also home to the NH Audubon Center, Capitol Center for the Arts, Concord Community Music School, the Museum of NH History, the Society for the Protection of NH Forests, the McAuliffe-Shepard Discovery Center and Observatory, and every recreational amenity possible – from golf courses to roller derby rinks.
As you explore Concord, NH homes for sale, enlist the help of a Verani Realty real estate agent well-versed in the city's unique neighborhoods and planned development around them. They'll be by your side as you explore the walkable city, its retail districts, or how to pronounce some of those tricky street names.
Share This Post