Moving to New Hampshire: Fun and Beauty with Every Season
Verani Realty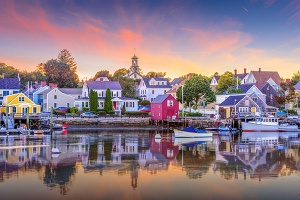 Considering a move to New Hampshire in the near future? Or in the midst of a job transfer that is going to require you to pick up your roots and move? New Hampshire is a great place to live, with so much to offer you and your family. In fact some surveys rank New Hampshire in the top three best places to raise a family.
There is so much to see and do, from New Hampshire's miles of sandy beaches to its picturesque mountain views, lakes and hiking trails. Each season brings something new.
Right now the autumn leaves are vibrant, amazing colors and there is nothing like seeing this on a ride through a small, rural town or across the White Mountain Presidential Range.


Fuller Gardens is a stone's throw away from the Atlantic Ocean, and from spring until the end of summer it displays horticulture at the highest level, with thousands of rose bushes and hundreds of varieties that bloom all season long. Formal English perennial borders, a Japanese Garden and a tropical conservatory are all framed by sculpted hedges. Bring your camera and come breathe in the sea air, explore our world-class gardens, and enjoy a timeless garden retreat!


Throughout the summer, escape to the Hampton Beach boardwalk, named one of the top 10 in the country by USA Today. From shops to delicious seafood, with a long sandy beach and several arcades for afternoon play, it offers something for everyone. Nightly concerts at the Sea Shell Stage, a master sand-sculpting competition, and a seafood festival that will satisfy your big lobster cravings are just a few of the events that take place here.


Throughout the holiday season make history fun at The Strawberry Banke Museum in Portsmouth. Stroll back in time to a Christmas Eve when the earliest settlers arrived. There is a large bonfire, storytellers, and even an outdoor skating rink where you can rent your skates.


Spring hiking is at its best in New Hampshire. When in the Seacoast area, hop over to Oaklands Tunnel Trail, an easy to moderate trail located in Exeter. You can try the easier two- or four-mile loop, or the full 7.8 mile out-and-back trail. The highlights of the Oaklands Tunnel Trail are the bountiful wildflowers and the birding.


New Hampshire also offers seemingly endless recreation opportunities. For boaters, there are hundreds of lakes on which to cruise. For skiing, there are picturesque mountains that will challenge the experienced skier or provide learning opportunities for novices and beginners.
Since the year 2000, New Hampshire has gained more than 35,000 new residents moving in from other states.  So before you pack a single box, it might be worth a weekend trip to explore and sample some of the great adventures and beauty you can find around the Granite State.
Relocating can also be an easier process with the help of an expert. Contact the Berkshire Hathaway HomeServices Verani Relocation team at 603-537-5312 or susan.post@verani.com.
Share This Post